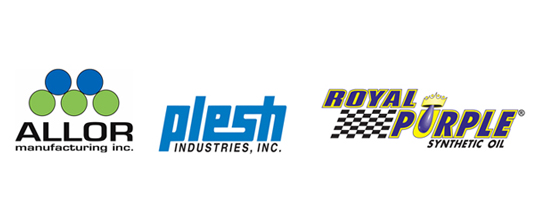 Contact Information:
Allor Manufacturing, Inc.
248-486-4500
www.allorplesh.com
FOR IMMEDIATE RELEASE
Allor Manufacturing Announces North American Steel Industry Distributorship of Royal Purple Lubrication Products
BRIGHTON, MI – April 9, 2014 – Allor-Plesh, a leading provider of Engineered Conveyor Chain, Levelers and Specialty Bearings, has partnered with Royal Purple to exclusively distribute Royal Purple lubrication products to the North American Steel Industry.
This partnership makes available proven, super-premium lubricants to the Steel Industry providing lower energy costs, reduced down time, improved reliability and increased efficiencies in all areas of the mills. Royal Purple lubricants consistently deliver a higher level of performance across a broader group of equipment than other industrial oils. No other lubricant offers a lower Total Cost of Ownership for the majority of a customer's plant equipment.
"The addition of Royal Purple lubricants will enhance the "Value Added Relationship" that Allor-Plesh has with their customers. We are proud to bring this combined value of our company's resources to the Steel Industry," said Tony Allor, President of Allor Manufacturing.
"Royal Purple's partnership with Allor-Plesh is a great avenue to provide our premium synthetic lubricants to the Steel Industry. We look forward to a long lasting relationship that will continue to grow our market share as more manufacturers realize the benefits of using our products," said Bryan Yourdon, Royal Purple President.
For more information on the benefits of Royal Purple lubricants in your facility, please contact your Allor sales representative or call 248-486-4500. If you are going to AISTech, please stop by our booth #1519, May 5 – 8, 2014.
About Allor Manufacturing and Plesh Industries
Allor-Plesh is a leader in Engineered Conveyor Chain, Levelers, Rolls and Specialty Bearings. Allor-Plesh products play a critical role in the Steel Industry as well as other industrial applications around the world. Our products are engineered to withstand the harshest service environments and to keep production moving. Our combined engineering expertise and industrial application experience give Allor-Plesh customers a competitive edge by increasing their productivity. For additional information on Allor Manufacturing, please visit www.allorplesh.com or call 248-486-4500.
About Royal Purple
Royal Purple is the world's leading lubricant company: The Performance Oil That Outperforms. Its portfolio of lubricants is available for consumer and commercial applications as well as a wide range of industrial applications. As a manufacturer of super-premium lubricants with an unwavering commitment to providing the highest performing products in the market, Royal Purple has positioned itself as an additive technology innovator. With its proprietary Synerlec technology serving as the cornerstone for most of the company's products, Royal Purple lubricants have excelled in head-to-head performance tests by outperforming the competition. For additional information on Royal Purple, please visit www.royalpurple.com or call toll-free 888-382-6300.