New Levelers
New leveler equipment built for your custom application by Allor-Plesh, the nation's leading leveler manufacturer, is the best way to keep your production moving. We can significantly decrease your costly maintenance and slowdowns with new machine leveler and plate leveler fabrication, installation, and customization. Allor-Plesh is your custom leveler manufacturer. We will design and build a new machine leveler, plate leveler, and other leveler equipment to your specifications.
Custom Leveler Manufacturer
Machine Leveler Experts
Plate Leveler Experts
Push/Pull Tension Levelers
Allor Patented Pull Through Tension Leveler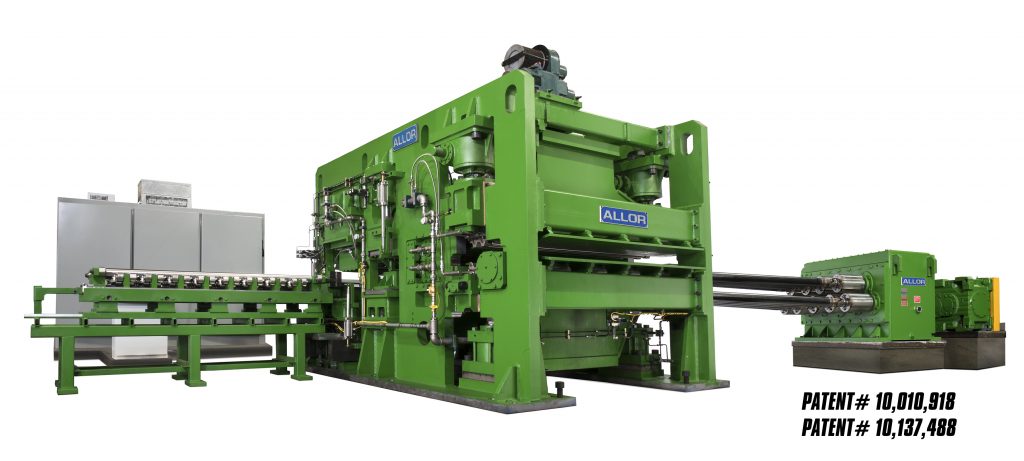 Allor Manufacturing Inc. is pleased to introduce our new patented Pull Through Tension Leveler utilizing patented technology, which provides flat strip with lower tension requirements vs. traditional tension levelers. This new machine uses a high-performance combination Pull Through Tension Leveler and a Roller Leveler combined into a single compact machine, designed specifically for the Eco Pickled Surface Coil Lines running High Strength AHSS grade steel. The installation of our Allor Pull Through Tension Leveler ahead of the EPS cells allow the pickle line to increase their line speed by 35% – 40%!
Additional Features:
• Significantly smaller footprint vs. tension levelers
• Designed to level high-strength AHSS grade steel
• Quick change cassettes
• Fully automated setup sequencing and operational control system
• Pull-Thru tension by the re-coiler or exit side bridle rolls
• Entry & Exit bridle rolls not required!
• Significantly reduces overall horsepower requirements
84″ – Slitting Line Leveler
Allor Manufacturing, Inc. is pleased to introduce our new 84" – Slitting Line Leveler engineered and manufactured to meet your product needs. This new machine features the following: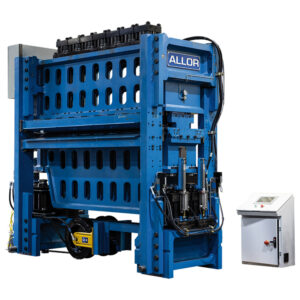 • Roll Plunge settings are based upon gauge and Yield strength settings entered into machine HMI
• Four Hydraulic cylinders automatically position the lower platen to the desired plastification settings
• Hydraulic roll bending through the upper backup bearing chocks to correct localized defects such as, center buckle and edge wave
• 4-HI machine can be configured to allow for optional 5-HI or 6-HI cassettes with no modification to the machine
Plate Leveler Experts
Our 45+ years as an expert plate leveler manufacturer include working with expert engineers from the custom leveler industry. Your new leveler equipment from Allor-Plesh will increase product performance and increase your yield strength range. New machine leveler and plate leveler applications will be custom engineered for optimal performance and engineered for durability in even harsh production environments.
We also offer plate leveler consultation and help you optimize the performance on equipment.
For machine leveler and plate leveler equipment with a greatly reduced lifetime cost, count on new leveler equipment from the leader, Allor-Plesh. Call us at 248-486-4500.