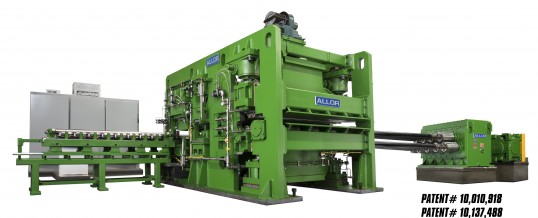 Allor Manufacturing Inc. is pleased to introduce our Patented Pull Through Tension Leveler utilizing patented technology, which provides flat strip with lower tension requirements vs. traditional tension levelers. This new machine uses a high-performance combination Pull Through Tension Leveler and a Roller Leveler combined into a single compact machine, designed specifically for the Eco Pickled Surface Coil Lines running High Strength AHSS grade steel. The installation of our Allor Pull Through Tension Leveler ahead of the EPS cells allow the pickle line to increase their line speed by 35% – 40%!
Additional Features:
•    Significantly smaller footprint vs. tension levelers
•    Designed to level high-strength AHSS grade steel
•    Quick change cassettes
•    Fully automated setup sequencing and operational control system
•    Pull-Thru tension by the re-coiler or exit side bridle rolls
•    Entry & Exit bridle rolls not required!
•    Significantly reduces overall horsepower requirements
Call us at 248-486-4500 to see this unit running in TMW's new EPS coil line in Red Bud, IL.